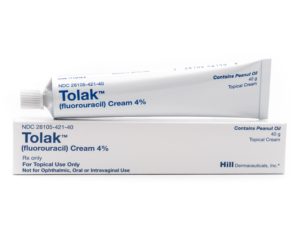 NDC 28105-421-40
Indications and Usage
Tolak® Cream is a prescription medicine used to treat skin lesions called actinic keratosis on the front, ears, or scalp .
Dosage and Administration
Use Tolak® Cream precisely as prescribed by your doctor .
Apply Tolak® Cream 1 clock each day, to the areas of your peel to be treated, for 4 weeks. Apply Tolak® Cream as follows :
Gently wash, rinse, and pat dry the skin areas to be treated.
Apply a thin film of the Tolak® Cream to the areas to be treated.
Gently massage Tolak® Cream evenly into your skin.
Avoid contact with other areas of your body, and transfer of Tolak Cream from your body to other people.
Wash your hands well after you apply Tolak Cream.
Important Safety Information
Contraindications
TOLAK® is contraindicated in women who are nursing, pregnant, or may become pregnant during therapy because of potential harm to the baby or fetus.
Do not use in patients with dihydropyrimidine dehydrogenase (DPD) deficiency. Increased fluorouracil availability may occur in DPD deficiency leading to systemic toxicity. Discontinue TOLAK® if symptoms of Fluorouracil's toxicity develop such as severe abdominal pain, bloody diarrhea, vomiting, fever and chills.
Warnings & Precautions
For topical use only; not for ophthalmic, oral or intravaginal use. Avoid treatment in the periocular area, mouth, lips and mucous membranes. Eye disorders, including corneal and conjunctival reactions can occur. Avoid accidental transfer of the drug into eyes and to the periocular area by washing hands after application. If accidental exposure occurs, flush eyes with water and seek medical care.
Application site adverse reactions, such as erythema, scaling/dryness, edema, crusting, erosions, stinging/burning, and pruritus, are likely to occur during and for 4 weeks after treatment of actinic keratosis with TOLAK®.
Allergic contact dermatitis (delayed type hypersensitivity reaction) has been noted for topical fluorouracil drugs. Delayed type hypersensitivity should be suspected in the event of severe pruritus or eczema at the application site or at a distant site. TOLAK® contains peanut oil. Discontinue use if signs of hypersensitivity occur.
Exposure to sunlight, including sunlamps, should be avoided or minimized during and immediately after treatment with TOLAK® as photosensitivity reactions including severe sunburn can occur. Patients should be warned to use sun protection measures such as wearing protective clothing and sunscreen.
Most common ( incidence > 68 % ) adverse reactions occur at the application web site and include erythema, scaling/dryness, crusting, pruritus, stinging/burning, edema, and erosions. Erythema is observed in 99 % of patients with actinic keratosis treated with TOLAK®.
This safety information is not comprehensive. Please see Full Prescribing Information. Ask your healthcare supplier if Tolak® is right for you.
Full Prescribing information
® at 1-800-344-5707 or FDA at 1-800-FDA-1088 or The information provided above is intended for residents of the U.S. The products shown may have different labeling in different countries. Contact your local distributor for prescribing information. To report Suspected Adverse Reactions, contact Hill Dermaceuticals, Inc.at 1-800-344-5707 or FDA at 1-800-FDA-1088 or www.fda.gov/medwatch